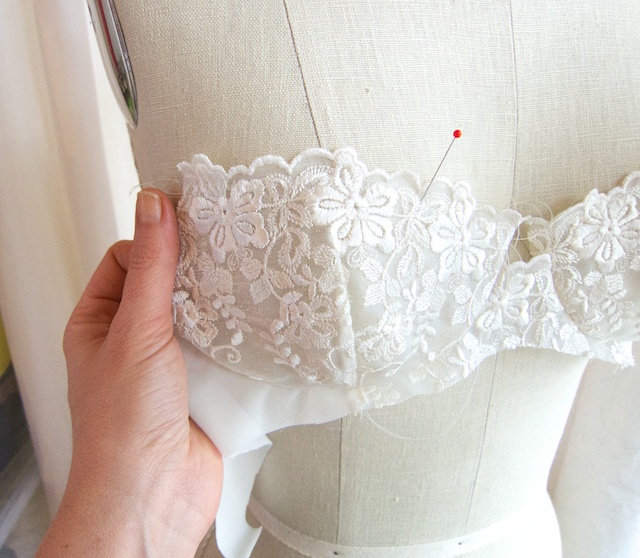 I am working on a design idea for a bridal lingerie set, but had the hardest time finding ivory elastic to match my chosen lace. White just looks like an eyesore next to ivory, and I didn't want a contrasting color.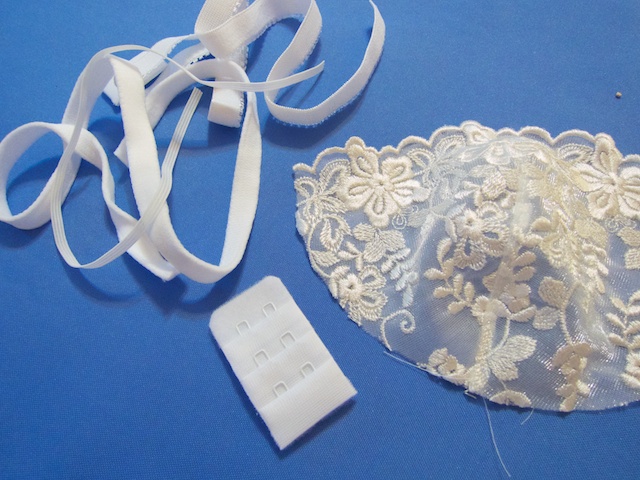 I've learned through my elastic dyeing experiments that pale colors don't always turn out as well as darker ones. And ivory has been the hardest color to get. It doesn't matter what color or how little dye I use, there's no in between white and a mottled greige that looks just plain wrong.
Tea dyeing turned out to be a perfect solution. I could have also tried coffee, which is far more common in this house! Tea is a really low-commitment, no mess dye, with no need for separate pots or gloves.
I'm just starting to read about natural dyes, especially those that don't need any mordants or additional chemicals to assist in helping the dye bonding process. These are called "substantive dyes" and include stuff like tea, coffee, onion skins, tumeric and ooh, pecan shells, which are overrunning my garden right now. (We have eight mature pecan trees.) I see a dyeing experiment coming up this fall! But, and a big but, from everything I read, these dyes are the most permanent on wool, and a little less so on cotton. And there isn't much information about using them on nylon.
But really, all I wanted to do was just "off-color" my notions. I tried a few different teas–PG Tips, chamomile and Lady Grey. The first elastic came out kind of icky gray-ish tan. The chamomile didn't add much color. The Lady Grey seemed to have more red or warm colored tea leaves in it and that gave me my best results.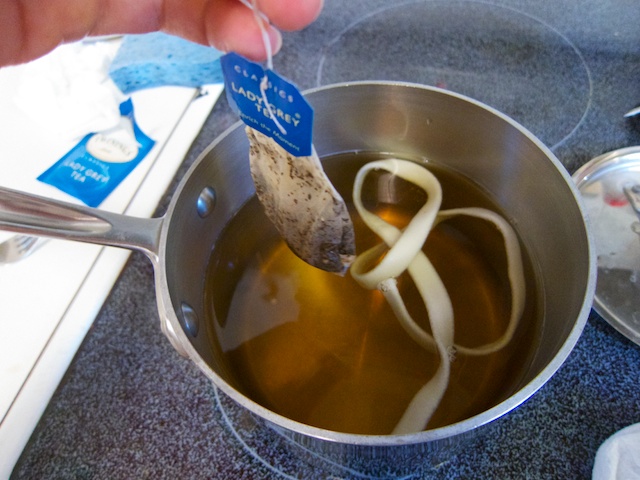 First I made the tea by steeping one teabag in a pot for about 1 minute. Just one teabag, because I really just wanted to dim a white color, not go any shade of pale brown. I let things cool down a bit before dunking my notions. In my experience, anything with spandex starts to curl above 140°. When it was ready, I immersed my wet and elastic and notions and stirred them about until they looked like it had just taken on a slight stain.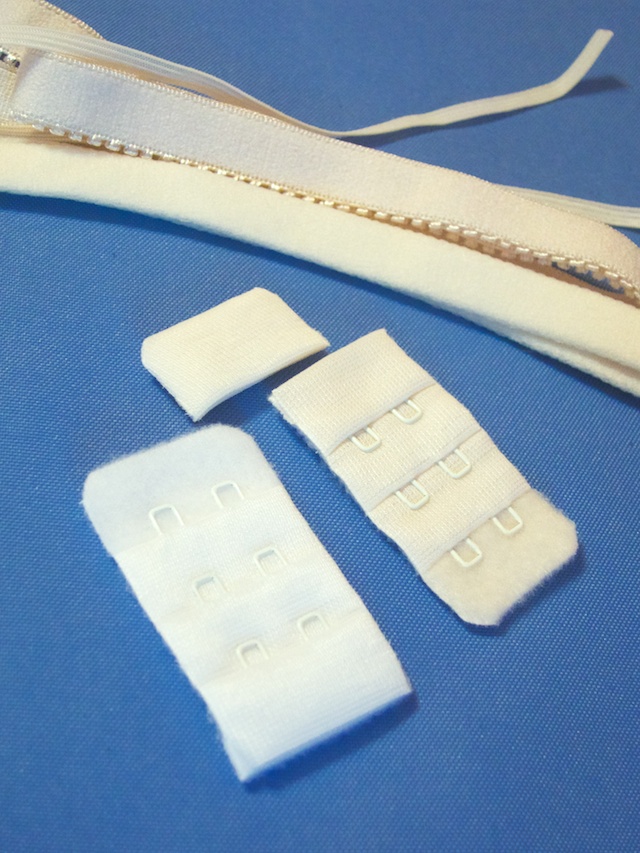 I think this will work just beautifully. For all I know, I may have just stained (rather than actually dyed) these elastics, which is just fine. I'm pretty sure they will never fade back to blinding white. If you know the secret to that without using bleach or high heat, pass it on to me, because a few of my white t-shirts would thank you!
Have you ever dyed with tea?
Good Dye Reading:
*About Natural Dyes and *some interesting science about mordants
*Handbook of Natural Dyes by Sasha Duerr
(p.s. Thanks to everyone for the kind wishes and suggestions on my WordPress commenting problems. My problem was very simple, and I think I got it solved. I was on Akismet's spam list, and one of my gracious readers helped me get through to Akismet support. There are sometimes more problematic reasons behind why one's IP (the address that identifies the network from which you work) would be flagged by spam filters, but thankfully none of those sticky reasons were my situation. Computer is all clear, network is all clear!)