It's been awhile since my last Lingerie Friday! We are still settling in and finding new rhythms after what feels like eons of moving and sorting and unpacking. This week I've been dreaming up color ideas for future lingerie projects, and so I've been playing around with dyes again. I never aspired to be a painter, but I went through a phase where I was completely taken with mixing paint colors. I would spend hours mixing watercolors and gouache to get exacting shades of olive, lilac, pale pale coral. It was inevitable that I'd fall for dyeing, and I have fallen hard.
I'm dreaming about yellows at the moment, specifically lemon-y or acid yellows so I've been experimenting with a few dyes. My friend Stephanie came over and took some photos of me in the "lab".
Ingredients: Dharma acid dye in "Fluorescent Lemon", vinegar, hot water. For the small amounts I am dyeing, I use a Pyrex jar. Don't forget the gloves and "not-for-cooking" spoon.
What I'm dyeing: bra rings & sliders, hook & eye, and a few samples of elastic and stretch mesh. I wash these in a mild soap to remove any residue. (You never know; some fabrics have surface treatments.)
Before I commit to larger amounts, I'm dyeing just these little bits to see how it turns out. A teensy bit of powder dye goes a long way for so little… even a sprinkle is almost too much. I add the hot water to the dye…
The nylon-coated rings take the longest to accept dye. They usually sit and take on barely a pale stain until I add the vinegar. The water has to be hot. They tend not to dye well if the water doesn't stay hot. If I've already added vinegar and they're still being stubborn, I take the rings out and microwave the dye water to heat it up a bit.
Oops, here's what happened when I didn't take the rings out before re-heating the water in the microwave. Melted nylon!
The rest of my samples seemed to take mere seconds. I used to pull fabrics out and rinse them as soon as they got to the intensity I wanted. But I've since learned that the time in the acidic hot "bath" is also important to how colorfast the dye will be. I'm still experimenting, but if there is still some dye left and I don't want the notions to take up any more, I transfer them to another pot/jar with just hot water and vinegar for about 20-30 minutes.
Since I had a bit of dye left, I threw in another set of rings and sliders to make up for my melted ones. This lemon is super neon! (It really does glow in the dark.)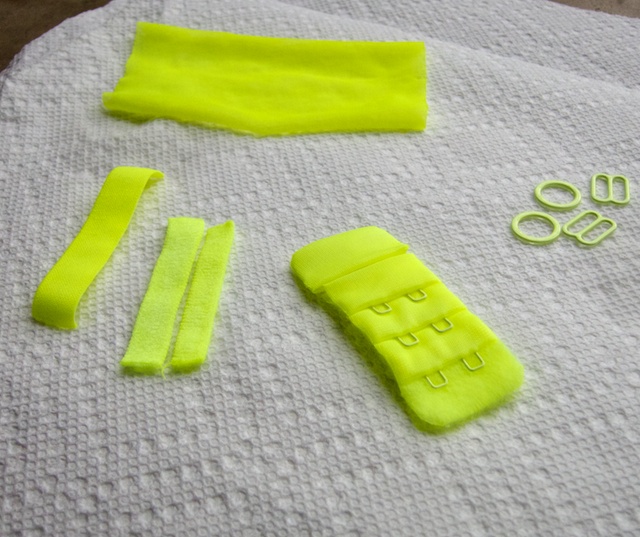 Note that I'm dyeing nylon (and my elastic is nylon), so I'm using an acid dye. You can also use RIT, as it contains a form of acid dye along with another type of dye for cottons and such. With either an acid dye or RIT, the heat and acidic pH (via vinegar) are the key to encouraging the dye to bond and this works for nylon as well as silk. I love the "professional" acid dyes. They're much less expensive than all-purpose dyes and the colors are more brilliant and predictable. I still happen to have a bottle of RIT not-fluorescent "Lemon" waiting for my next experiment…
Happy colorific lemon-y weekend everyone!
x
Would you like tips and inspiration in the craft of lingerie sewing? Sign up for my weekly eletter The Lingerie Maker.