On our first date, Derek took me to see Amelie in Prague, in one of those old European theaters whose screens still have curtains that close during a halfway intermission. We were the only two people in that tiny theater, and the experience was made especially mysterious by the fact that we were seeing a movie in French with Czech subtitles. I didn't understand most of what was being said, but who needs language in a magical movie like Amelie?
Afterward we wandered around the empty city—it was October, and fairly tourist-free—in search of a shop that would sell us a hot chocolate to warm our hands, and ended our evening around four in the morning on Charles Bridge, with only the sound of a flock of birds flying overhead.
The whole night I felt like I was in a movie of my very own. I know that sounds cheesy but it's true. Just like the main character, I'm a diehard romantic and it couldn't have been a more poetic evening.
I'm thankful I married another diehard dreamer so I wanted to make a set for Valentine's day. Of course, this is all a roundabout way of talking about sewing!
We haven't been out on a Valentine's Day in a few years. To be honest, I usually forget! Still, as life gets busier and as our marriage gets older, it's good to have reminders to stop what we're doing and just be together, the two of us. It's not always about going out. Sometimes it's just staying in, making a fire, talking and watching a film.
Even though that was the gist of our "date" this year, I still wanted to finish this just in time for Valentine's night. It felt like a dreamer thing to do. Make a lingerie set for nothing other than staying in on a cozy winter night…
When I was drafting my strapless bra, the cup pattern fit so well that I started drafting a few other bra cups off of it. I ended up with a little stack of cup patterns that I've been slowing sewing up and this is one of those. I wanted something that would show off lace but at the same time feel feel comfortable and supportive and this design was the perfect candidate.
Ignore my dress form, which does not fill out my bras!
I knew that the basic block/shape was going to fit based on a few measurements but I quickly taped up a paper cup so I could see if I had the strap point in a good position. This is actually neat little trick I've been doing for my bras. And I'm very happy with the fit! I love designs that have higher strap extensions. They make me feel much more "contained", if that makes sense. (Here's another example of a pattern with a higher strap point.)
The lace shorties are another pattern I am working on. I've made these several times but this is my first time posting about them. They're a great excuse to use the same lace I'm using in a bra.
For the bra I threw in a few luxury treats, like silk ribbon, hardware detailing, and silk channeling.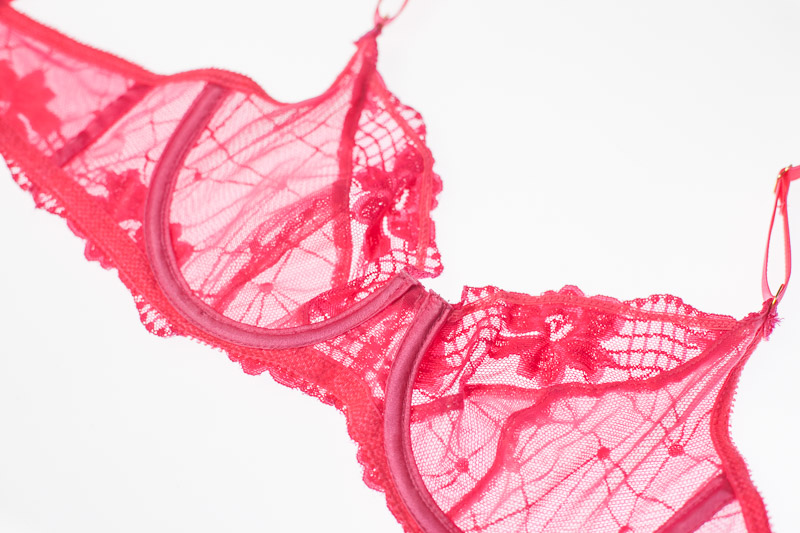 (And by the way, some of you asked about this… I am working on a tutorial for making your own silk channeling.)
And there you go… love and sewing!
Details:
Lace: somewhere off of Ebay…
Cup lining: Bra-makers Supply
Elastic and stretch mesh (lining the band): Fabric Depot Co.
Except the lace, all materials were dyed with Washfast acid dyes.
Would you like tips and inspiration in the craft of lingerie sewing? Sign up for my weekly eletter The Lingerie Maker.