For most of my early adult life, my knowledge of bra styles began and ended with seamless t-shirt bras. Truth be told, I didn't like spending money on bras but living in Europe had an effect on my tastes. Now and then I'd get sucked into a candy-colored lingerie boutique or an old-world department store like KaDeWe in Berlin and splurge on something I thought was a bit more exotic. A pretty French lace bra. Back then, even Nordstroms in the U.S. was mostly a sea of seamless bras, except for the occasional lace number by Elle Macpherson–one of the lingerie brands that I think changed the game of somewhat affordable, la-la lingerie.
One thing I learned in my lingerie explorations that "foam bra" didn't necessarily equal push-up or seamless bra.
Molded Foam Bras
There are bras in which foam is simply a support or modesty lining, and then there are those which use foam as a shaper or extra padding.
You are probably familiar with the Wonderbra-style pushup bras, which are a molded foam-cup bra in which the foam has more thickness in the bottom. I call that a "plumper bump" (totally non-technical name I just made up!) The bump is there to push the breast volume upward, and it can sometimes be quite extreme. I recently saw a Wonderbra that had what I swear was a 1″ thick plumper bump in the bottom of the foam cup, and this was a 36G.
This is one of my bras, a Calvin Klein push-up with a plumper bump.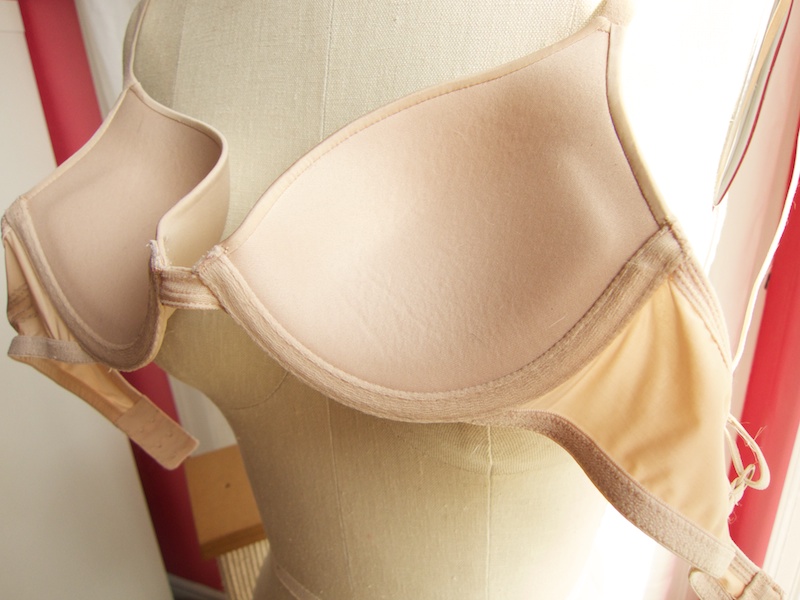 Hopefully you can see the plumping part by its shadow.
A bra can also add push-up effects with a floating foam cookie. These bras usually have a sheer lining pocket into which you can insert the cookie if you want to add volume to the cup or take it out if you don't.
This is an example of a Cosabella seamless foam bra with a removable foam cookie.
I should mention that without the cookie, this particular bra doesn't really add much "size" or volume. The molded cup is fairly thin.
Cut and Sewn Foam
The previous two examples are bras made with a molded foam cup, but there is yet another type of foam bra. In the bra industry, any kind of bra with a seamed cup is normally called "cut-and-sew" style, and that also includes designs which have a seamed foam lining. Seamed foam bras were popular before the Wonderbra trend of the 90s made molded bras ubiquitous, but they are still quite common especially among mid-range and luxury brands. Are they more expensive to produce than molded bras? I don't know.
An example of an Elle Macpherson strapless bra with cut-and-sew foam:
The outside of a Stella McCartney bra with cut foam.
You can't even see the foam on the inside, which is completely lined with silk charmeuse. So luxurious!
If you were take apart any of the above bras, you'd find that the foam thickness and flexibility really vary. My personal favorite seamless t-shirt bra is made from what Chantelle markets as "memory foam" (which I think is probably a lightweight spacer foam with a bit of spandex). I like it because it does feel light and invisible under t-shirts (that and it really fits me well).
One of the common misconceptions about "foam bras" is that they are all push-up or volume-adding bras. Most of the time, foam is really just an extra layer of support, or the entire layer of support. A true push-up bra has a lot of little tricks in it, not just in the thickness of the foam–wire shape, bridge and the mold over which the cup is formed all play a part in pushing your volume around. Bra-makers have been trying to patent these ideas since bras were bras!
Where to Find It
On the bottom of my Bra-making Supplies page, I included a list of stores that offer sheet foam for bras. My favorite comes from Sew Sassy–it's light, flexible and very soft. Many bra-making suppliers also sell molded cups.
Aside from my one experiment with a molded cup bra, I much prefer making seamed bras. In my experience they have more potential for a totally custom fit. But as you can see from my (worn) examples, there is a place and reason for all sorts of bras in my lingerie drawers.
Next week I'm (finally!) going to share a seamed foam cup tutorial. I think I'll be breaking this down into three posts, as I wanted to include as many photos as possible. See you then!
♥Amy
Would you like tips and inspiration in the craft of lingerie sewing? Sign up for my weekly eletter The Lingerie Maker.