(Journelle, Fleur Du Mal, Araks, La Perla – see the Polyvore set)
When I first started making my own bras, I was dead set on having a "demi bra". Mind you, I had no idea what that really meant but the bra in my imagination was something other than the patterns I had tried.
I've realized since that what I really wanted was a bra that felt "designed", that had colors, textures and feelings–good design ideas. And for some reason the term demi conjured up prrretty.
I'm guessing that for some of us, a demi might anything that isn't a full cup bra. "Demi" and even "balconette" are often used fairly loosely by retailers and designers which makes them even harder to pinpoint. All of the bras in the image at the top were ones that either a shop or designer listed as "demi". And they all have different coverage and design shapes.
So today I want to refine these bra terms a bit more, the way I understand them–through their neckline shapes.
Full Cup
A true full cup bra is one that covers much of the top half of a breast.
(photo: Retro full cup by Wacoal)
In these bras, you may notice that the upper part of the cup is higher–almost equal in height as the lower cup–and the straps are quite centered, starting higher up on the chest. (I really love the above example by Wacoal–goes to show you that a full cup doesn't always mean beige and boring.)
Typical features of a full-cup bra:
longer wires in front and sides
high gore (bridge)
wider band at side seam (as a result of longer wire)
centered straps
You can take the same exact wires from a full cup bra and create styles with a lower neckline. This involves moving the strap position, or in the case of a strapless bra, removing the strap altogether.
In these styles the height of the center front stays the same as the full cup bra, but the neckline gets slightly more "squared" as the strap extension is lowered or removed.
The Half Cup
This is the style many associate with "demi".
The word "demi" means "partial" or "half". While most of the bras I'm illustrating in this post are technically "partial" in coverage, a half cup has a particular look. It is usually a low-cut cup with a squared neckline that encourages little bit of cleavage.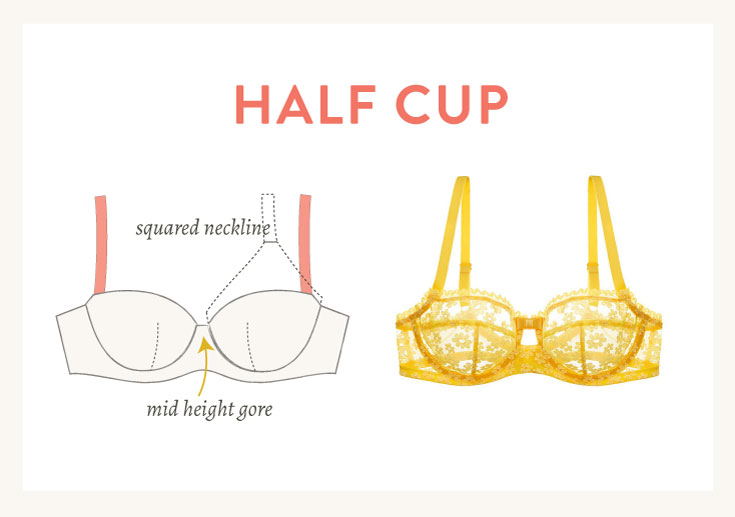 (photo: Melisande by Huit)
Some brands are really known for this style, such as Agent Provocateur, Simone Perele and Huit. Also take a look at half cups over at Bratabase (a bra review community) for examples in DD+ brands.
Typical features of half cup:
Wires are often at equal heights in front and sides.
Usually have a vertical dart or seam, or two vertical seams for larger cups. (The yellow Huit bra in my example is an exception with its horizontal seam.)
There's a reason for the vertical seams, from a patternmaking perspective. Vertical seams make it easier to create a low and more open neckline while keeping the bottom of the cup a little bit more shallow, thus forcing the breasts upward.
I've made a couple of bras with a half cup style, one of which was this mint bra I made way back for the Bra-making Sew Along.
The Balconette
Here's another term that's used quite broadly–search for balconettes and you will find a range from very low-cut half cup styles to fuller-cup bras with a more revealing neckline.
I tend to think of a balconette as any bra that creates a sweetheart neckline.
(photo: Paris by Miss Mandalay)
Features of a balconette:
A lower bridge, and the front is lower than the sides.
Often 3- or 4-piece cups with seams in opposing directions (the extra seaming allows for a more shapely, contoured neckline).
The Plunge
A plunge bra often has a "v-neck" appearance to it, just like a full cup bra, except of course that it plunges down between the breasts. Underwired plunge bras have dramatically shorter wires in the front.
(photo: Iana by L'Agent)
Features of plunge bras:
Lowest wires of all, often with a slight diagonal tilt in the front.
Narrower bridge (gore), especially in push-up bras.
In bralettes or soft cup bras, there is often no bridge (like the Watson, which is a plunging style neckline).
It's all about the neckline
In this illustration I've laid all these styles on top of each other so you can see how their necklines compare:
One thing to notice is that a bra's neckline shape and coverage is really determined by two things: the wire height (if it's a wired bra) and the strap position. Both of these are really easy to change in a bra pattern!
Shorten the front bridge and wire, and you start plunging the front neckline into more of a v-shape. Move the straps downward and outward, and you start creating more of a balconette or half cup. (For some ideas on how to do these things you might like my posts on cutting wires, cup alterations, or design alterations.)
I hope this analysis helps you understand bra styles a bit more and perhaps narrow in on why you like certain styles more than others!
For example, I often find myself creating plunge like bras because I like low wires (more comfortable on my sternum), I don't need high wires but I like my straps a bit high and more centered.
What about you? Do you have a favorite style?
Would you like tips and inspiration in the craft of lingerie sewing? Sign up for my weekly eletter The Lingerie Maker.